TMA stands for Talent Motivation Analysis. The analysis provides an objective and in-depth insight into your 22 motivations, 44 talents and their development opportunities. In addition, you gain insight into all your acquired competencies and in which work areas you function most motivated and talented.
The TMA analyses and reports are available in 12 languages.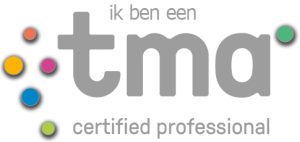 The analysis starts online. The questionnaire consists of many statements. You always choose what suits you best. The results of the talent analysis are systematically related and analyzed for mutually reinforcing and neutralizing talents. Your motivations become so clear and insightful. When you have completed the test, you will receive the summary by email. Then we make an appointment to go through everything face-to-face in a development/coaching conversation. You will then receive an extensive report that is positively talent and development-oriented. Your TMA also provides more insight into your ideal working environment, learning, communication and development style.
The TMA Talent Analysis is used by different professionals in different situations:
as an aid to individual development issues: what makes me enthusiastic, what makes me empty, where is my real talent;
as a starting point for conversations between managers and employees, supervised by a TMA professional or coach;
in recruitment and selection, by matching the TMA of candidates with pre-prepared job profiles;
in the analysis of teams, where is which talent, what are we missing, where is the energy leaking away.
TMAs are used, among other things, for issues about career choice, selection and development.
More and more students have a TMA analysis made before applying for a job. Motivations become clear and so self-knowledge increases. All this results in a much sharper application.
Together with Pip Training
Matthé Pipping of Pip Training and Coaching and I guide young professionals, based on their TMA. These are sometimes individual trajectories, sometimes team trajectories within companies of 2 years. You can read more about this at Matthé.
What TMA itself says about its method:
Insight: into your 22 different motivations and 44 personal talents. This insight helps enormously to map, understand and effectively deploy your own motives and preferred behavior;
Recognizability: The talent analysis is an eye-opener for most people: the report is striking and very recognizable;
Positive: Any outcome is good. It is, after all, a matter of preference. The more extreme the score on a motive, the greater the talent that lies hidden in it;
Practical: The analysis provides insight into strengths and weaknesses. TMA provides you with tools to further develop and deploy your talent.
Below are some examples of what the reports look like:
There are many possibilities within TMA. Individual, team-oriented, competency and job profile analyses. There are different rates for all these things. If you would like to know more about TMA and what it can mean for you or your company, please contact me.